From the Field: Protest, Opportunity, and the Common Good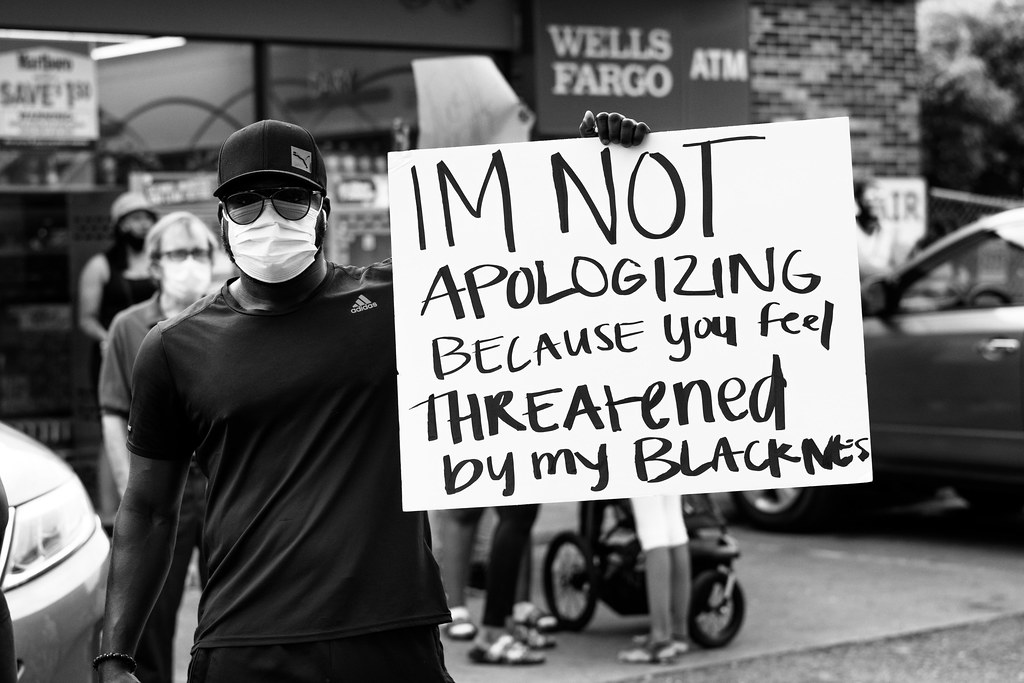 A protester in Minneapolis. Photo courtesy of Lorie Shaull, used under CC.

Collected Wisdom

Stopping the Spread of Injustice
This past week, many thousands of protestors braved the streets in the midst of a pandemic, with the hope that their actions could help stop another deadly virus that has long plagued our country: racism against black people.
One symptom of such racism is violence. Either outright violence, as we've witnessed in the senseless killings of George Floyd, Ahmaud Arbery, Breonna Taylor and so many others, or threatened violence, as expressed in the loaded language of a white woman who made false claims to police about Christian Cooper as he birdwatched in Central Park. A New York Times article points out that her carefully chosen words amounted to "a calculated act of profiling even as she accommodated the dictates of progressive speech."
According to Shari Dunn, this kind of racialized response is the product of "an irrational fear, a distorted funhouse mirror warped by history, culture, and privilege."
"an irrational fear, a distorted funhouse mirror warped by history, culture, and privilege."
Dunn currently leads the nonprofit organization Dress for Success Oregon, and has had ample experience dealing with a host of macro- and micro-aggressions faced by black women in positions of authority. In an essay on her blog, Dunn takes a hard look at the ways that the irrational fear of black people "bleeds into every aspect of our lives," including the workplace. She has no easy solution to prescribe, no cure-all, but suggests that openly acknowledging this fear—and its destructive power—is one necessary step towards ending this disease. Read her full blog post here.
A Masked Message
In late January, the U.S. Centers for Disease Control and Prevention (CDC) told us it was not necessary to cover our faces to prevent the spread of COVID-19. But months later, in April, it finally urged the public to wear cloth masks. This change was supported by science, but the messaging around this issue was less than perfect.
The Verge's Nicole Wetsman argues that "the pandemic response in the US has been characterized by inconsistent messaging—notably, around masks and testing—without clear signals why policies might be changing." The problem was not the change in message, but rather the initial failure to make clear that recommendations were likely to change as we learned more about the novel coronavirus.
So how can we remove the partisan stain from something that offers a clear public health benefit?
A further complication is that guidance from public health agencies, slow in coming, has often been supplanted by a torrent of advice pouring forth from a disparate array of other sources. Government agencies can not "produce the style and speed of information that the social platforms have made routine, and that the public has come to expect," writes Renée DiResta in The Atlantic. This flood of misinformation has led to confusion, and has even helped politicize the act of wearing a mask. Many now view it as an unacceptable encroachment on their freedom.
So how can we remove the partisan stain from something that offers a clear public health benefit? DiResta notes that transparent, frequent, and direct communication from health authorities is key—messaging that includes not only assertions but also explanations. And Frameworks Institute stresses the importance of employing a common good frame which uses "language and examples that emphasize collective action and shared outcomes," and does not shy away from the use of explicit moral arguments. For example, this might include labeling mask usage as a sign of respect for each other, or a responsibility we share to keep our community healthy.
Making Change

Measuring Up
The communications team behind the Here Together campaign successfully employed a common good frame to generate support for Measure 26-210, which will raise an estimated $250 million dollars per year in the Portland metropolitan region. These funds will help alleviate chronic homelessness by providing services and supportive housing.
The changemaking measure recently passed, despite the inherent difficulties of levying new taxes in the middle of an economic downturn. Its slogan—We are all here together—espoused solidarity within our community, and the campaign built a wide coalition that included the Portland Business Alliance (and our own company). The passage of the measure has been deemed a "wake-up call" to other municipalities, as it demonstrates there is a growing hunger to reduce large structural inequities in society.
An Obligation to Yourself and to Your Community
Felicia Tripp Folsom knows that some things in life are left to chance—doors open or close, depending on the "nuance of where you interconnect with opportunity." But the executive director of Emerging Leaders PDX doesn't rely on luck. Instead, Tripp Folsom works to ensure that people of color have the opportunities and support they need to become leaders in their fields.
"when adults tell young people one, you matter, two, you're special, three, you have potential, four, you can accomplish great things, that's a game changer."
In a far-ranging interview on the Cause An Affect podcast, Tripp Folsom describes her upbringing as the daughter of a Korean mother and a black father, her determination to create space at Reed College for people of color, and her career in nonprofit leadership. Her driving philosophy is based on a deep responsibility to those following in her footsteps: "when adults tell young people one, you matter, two, you're special, three, you have potential, four, you can accomplish great things, that's a game changer." Read the interview, or listen to the full podcast here.
Participate
Act in Support of Racial Justice
This list from Equality Includes You details 75 actions that white people (and others) can take to promote racial justice. It includes a wide assortment of educational, financial, political, and social actions. If you call the Portland area home, one option is to donate to the recently established Black Resilience Fund, which is raising money to meet the immediate needs of front-line communities.
Pledge to Mask Up
By taking the Shop Smart Pledge, you can protect yourself and the workers at your local grocery store. Simply pledge to wear a mask, remain a safe six feet from others, and properly dispose of your gloves or wipes.
Give to Your Community
The Oregon Community Foundation's Community Recovery Fund distributes resources to community-based organizations throughout the state that are helping people weather the effects of the COVID-19 pandemic. You can donate here.
Attend the IMPACT Gala
Join Transition Projects as the nonprofit hosts its IMPACT Gala, celebrating over five decades of community support for the needs and aspirations of people experiencing homelessness. This year, the event is being held virtually at 6pm PT on Thursday, June 11th. Get your ticket here.
---
The artist Shirien Damra created this portrait of George Floyd, which has been widely shared. Read more about how Damra and other artists are working to instigate social change here.
View this post on Instagram