Facts, Not Fear, in COVID-19 Communications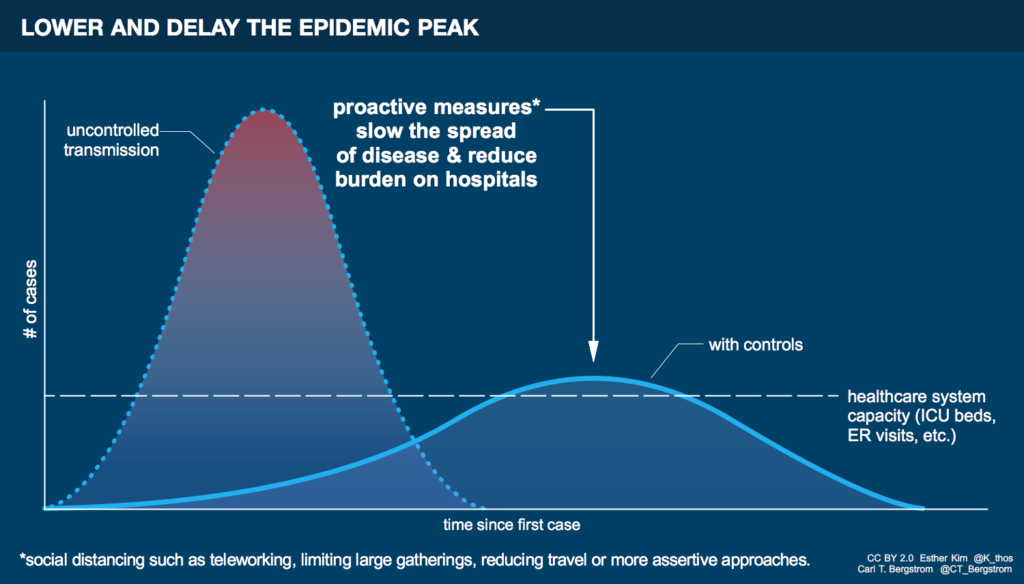 A helpful visualization by designer Esther Kim and University of Washington Prof. Carl T. Bergstrom. It is licensed for free reuse.

---
The novel coronavirus disease known as COVID-19 has infected well over a hundred thousand people, but its reach has touched the lives of billions more. In the U.S., according to The Kaiser Family Foundation, the vast majority of adults are now aware that there have been many cases of this virus diagnosed in the country. This awareness is a good thing. However, many people are receiving information about this pandemic from a variety of disparate sources. The World Health Organization (WHO) has described this rush of content as an "infodemic," and social media platforms have struggled to contain a flood of disinformation, even as the same platforms serve as vital conduits for verified information and justified alarm.
Handling Uncertainty in an Urgent Time
Communications professionals at social change organizations are faced with the difficult task of managing this infodemic in order to provide employees, clients, partners, and other audiences with clear facts that keep them informed and safe.
In a post for Hill+Knowlton Strategies, David Bowen lays out several key ideas for handling both internal and external communications amid uncertainty. He argues that it is important to maintain trust and credibility, and that it is okay to admit what you don't know. But crucially, you should be able to describe and justify the specific actions that your organization is taking in this challenging time. Bowen strongly advises communications staff to practice speaking about this issue before you are asked to do so publicly.
But crucially, you should be able to describe and justify the specific actions that your organization is taking in this challenging time.
Organizations need to communicate early, and to be flexible and compassionate in light of the growing impact of COVID-19 on our communities, according to this post from Rick Lyke of Mower. Here at Prichard, we've tried to be flexible, and have made the decision to work remotely (on a temporary basis). This was a tough decision, but we've taken this step in the interest of public health and the urgent social distancing measures called for by our local health authorities.
As we communicate about COVID-19, it's imperative to establish a clear, fact-based public health narrative. The World Health Organization (WHO) is partnering with many organizations to do exactly that, providing credible content for their internal newsletters and online presence. A wealth of information about the disease is available on the WHO and Centers for Disease Control and Prevention websites.
An Opportunity to Build Community and Instill Trust

If you are struggling to develop your organization's messaging under these challenging circumstances, know that you are not alone. The Communications Network has created a collaborative, crowd-sourced Crisis Communications Triage Kit with best practices and examples of messaging from a host of philanthropies, nonprofits, and more. This is an opportunity for us all to lean on the expertise of our colleagues in the communications field.
This is also an opportunity for organizations like nonprofits and philanthropies "to remind communities that we stand strong and always for the common good, particularly when we are challenged as a nation," as Dan Cardinali notes in The Chronicle of Philanthropy. By planning ahead, and making the effort to stay in close communication with staff, volunteers and grantees, such organizations can prove themselves to be dependable resources in times of great need.
Advocating for Equity and Protecting Each Other

"what perhaps makes the COVID-19 pandemic unique is that we are literally all in this together–across boundaries illusory and recognized, across nations, oceans, and the globe."
As we do this work, we should keep in mind that we should advocate for those who are most vulnerable. The Opportunity Agenda's Elizabeth Johnsen notes that language and messaging in crisis situations can propagate bias—against Asian people, against people experiencing homelessness, or against the elderly, for instance. It is our role as communicators to use inclusive language that can push back on fear and help protect others. And just as importantly, we need to protect our own mental health.
After all, as Johnsen points out, "what perhaps makes the COVID-19 pandemic unique is that we are literally all in this together–across boundaries illusory and recognized, across nations, oceans, and the globe."
---
How is your organization handling the current public health climate? Reach out to Erin Stutesman of Prichard if you need help with your crisis communications: erin@prichardcommunications.com