A Shot in the Arm: How to Boost Hope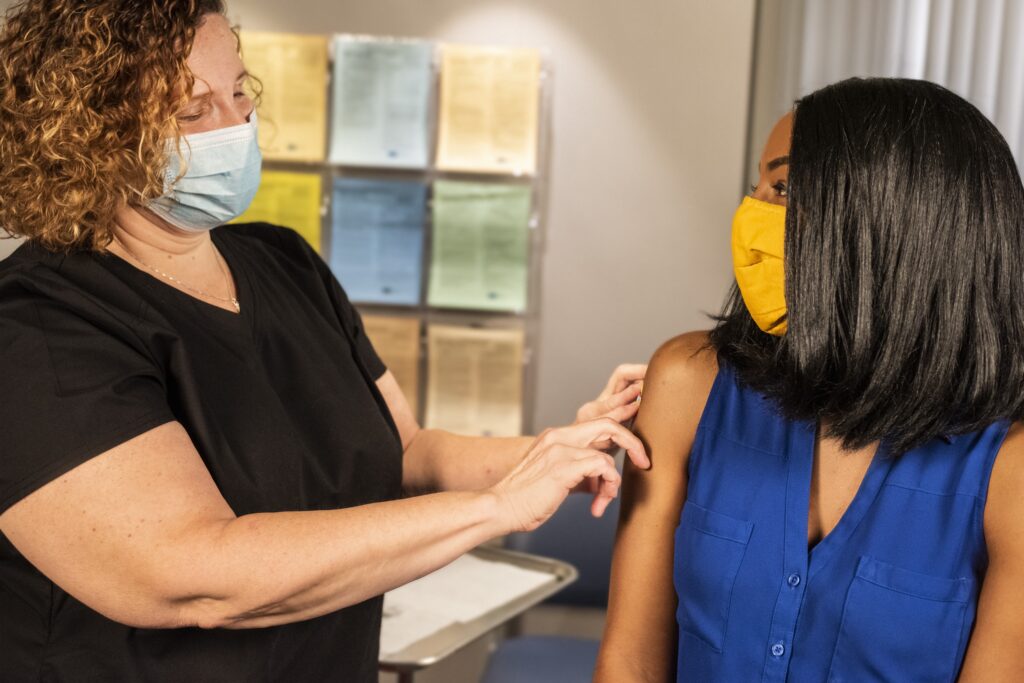 Image courtesy of the Public Health Image Library, a free resource for  photographs related to public health.

Collected Wisdom

Why We Need to Talk About Vaccines
As temperatures drop and Covid-19 cases rise, we face a very difficult winter ahead. Thankfully, the end of this pandemic is in sight: research indicates that several vaccines are highly effective and have the potential to curtail the disease's deadly spread. Yet a significant minority—as many as 40 percent of Americans—don't want to take a vaccine. So how can we change their minds?
Communicators should be sure that our vaccine-related content is timely, concrete, free from jargon, and tells the stories of real people.
Trusted organizations like local governments, nonprofits, philanthropies, and private companies all have a responsibility to help persuade people to take advantage of life-saving vaccines. And a new research-based framework can assist us in this major communications effort. This framework from The Center for Public Interest Communications and the United Nations offers guidelines for how communications professionals can fight misinformation and normalize the importance of vaccines in defeating Covid-19. The authors note 8 key principles, which are laid out in an accompanying piece in The Conversation.
One key takeaway? Communicators should be sure that our vaccine-related content is timely, concrete, free from jargon, and tells the stories of real people. Read the complete vaccine communications guide here and also check out this in-depth resource for communicators from The Institute for Public Relations.
A Generation Hungry for Change
After a contentious national election, the smoke from a slew of baseless conspiracies still swirls, but this much is clear: voters have spoken, and young people turned out in droves to make change. Nationwide, voter participation among young people rose from an estimated 42-44 percent in 2016 to 52-55 percent in 2020, according to Tufts University's Center for Information & Research on Civic Learning and Engagement. Concern with healthcare (especially as relates to COVID-19), racism, climate change, immigration, and economic issues all contributed to this increased civic engagement.
"we need to stop waiting until the last three months before an election to start talking with young people about issues they care about."
An article in Teen Vogue argues that changemaking organizations would do well to embrace this development and find ways to engage with young activists and amplify their messages. As Tufts' Abby Kiesa points out, "we need to stop waiting until the last three months before an election to start talking with young people about issues they care about."
Finding Your Narrative
Does your organization trust that your mission is actually achievable? According to communications strategist Thomas Coombes, "a lot of us don't believe the vision we are working towards is actually possible. Which means we work from our opponent's worldview." This, he points out, is a self-defeating strategy. In a two-part collection produced by Oxfam and On Think Tanks, Coombes and many other strategists, activists, and researchers share their experiences and offer unique insight on how stories and narratives can best be used to effect positive social change.
As changemakers seek to shift policies, we also need to promote shifts in culture. Cognitive scientist Laura Ligouri describes how research helps us to understand that focusing on negative stories—highlighting human rights abuses, for instance—may not be enough to inspire cultural change. Instead, "we need a different story for our brains and minds to create value and beliefs from…What a world with human rights looks like. We need to start crafting stories of hope and possibility." You can read the first part of this collection here and the second part here.
Making Change

Learning in Style
Lindsey Murphy has spent the last ten years as a (fabulous) mad scientist, and she's ready for ten more. Murphy's educational web series for children, the Fab Lab With Crazy Aunt Lindsey, strives to make science and math more accessible and inclusive for children of all backgrounds. This spring, after the COVID-19 pandemic shuttered schools, Murphy raced to produce 60 hours of free, live 'Digital Daycare' content. Her goal was to provide kids with a wealth of fun educational material and take a load off parents. The effort won her fans across the country, as noted in a Portland Monthly article.

View this post on Instagram
"it's almost like a green light from the universe that, yes, you're going in the right direction."
And children aren't her only admirers. American Express recently awarded Murphy a grant to support her efforts, which have long relied on volunteers, donated space, and Murphy's deep dedication. As she points out in a Portland Business Journal article, "it's almost like a green light from the universe that, yes, you're going in the right direction." You can read more about Murphy's plans, and make your own contribution to the Fab Lab, here.
The Push for Preschool

So much attention has been paid to our national election, but it's hard to overstate the potential impact of a local initiative that voters approved here in Multnomah County. The Preschool for All measure promises to provide universal preschool to thousands of children, solving what has been an enormous problem for the many families who cannot access affordable childcare. High-quality preschool has been shown to provide children with many long-lasting benefits, such as better health throughout their lives.
A New York Times article notes that this measure could serve as a national model for other communities throughout the nation, and credits its success to the large, diverse coalition that developed and backed it. One of the key philanthropic partners in this coalition, Social Venture Partners Portland, describes in a post how different community stakeholders contributed to the measure. In order to create change, the authors stress that the group needed to break down hierarchies, welcome more voices into the conversation, and listen to each other in order to develop a robust grassroots coalition, working with the knowledge that "progress moves at the speed of trust."
Participate
Donate to Willamette Week's online Give! Guide, which makes it easy to give to a diverse selection of 174 impactful nonprofits working to better our local community—organizations like Brown Hope, Western States Center, and Oregon Wild. This annual effort seeks to raise $5 million by the end of December. You can join nearly 10,000 other donors here.
Host an intern from the Emerging Leaders program at your organization. This program works to improve racial and cultural diversity at companies and develop a new generation of leaders in the Portland area. The program has faced challenges due to the impact of the Covid-19 pandemic, but has adapted and is welcoming company partners until January 13th. More information about hosting an intern—or applying to be one—is available here.
Watch and learn from the many insightful conversations that took place during The Communication Network's annual conference devoted to using communications for social good. This year, the conference became a virtual gathering, and a large collection of videos with keynote talks and in-depth discussions from a host of communications professionals, researchers, activists, and social change luminaries are free and available for anyone to view.